Regular price
Sale price
$32.00 USD
Unit price
per
Sale
Sold out
Ingredients:
100% grass-fed, grass-finished tallow.
USDA Certified Organic Grapeseed oil
USDA Certified Organic Coconut oil
USDA Certified Organic Calendula Oil
Directions:
Apply a desired amount to your fingertip, massage into hands well and apply to the desired area.
A little goes a long way.
Keep at room temperature. Keep lid tightly closed.
Safe for accidental consumption.
Stop using if allergic reactions begins.
Common Uses:
Babies and children
For sensitive skin, diaper balm, diaper rashes , rashes, eczema, psoriasis, cuts, wounds, inflammation, cracked skin, calloused skin, itching, sun damage, everyday cream and more.
Share
View full details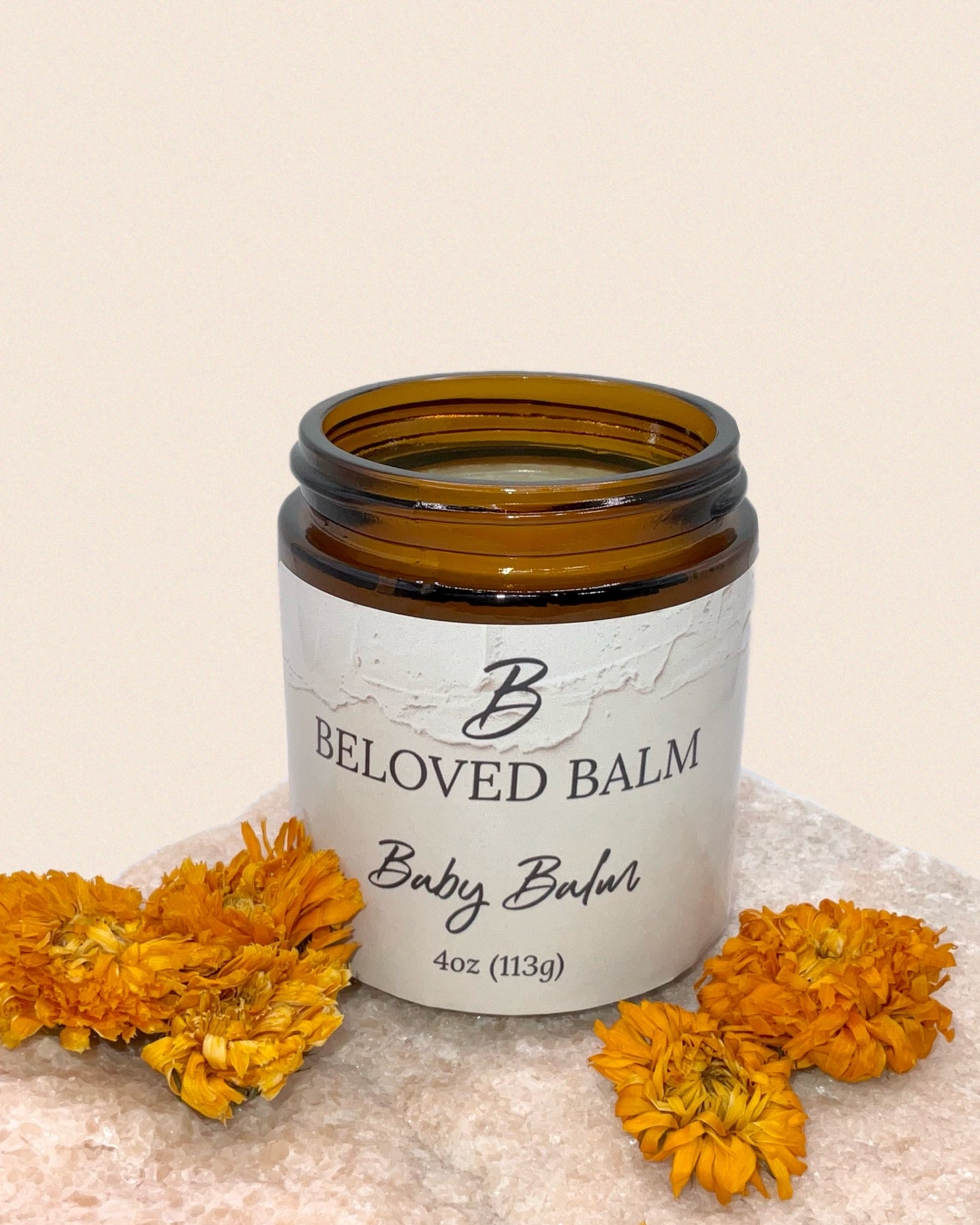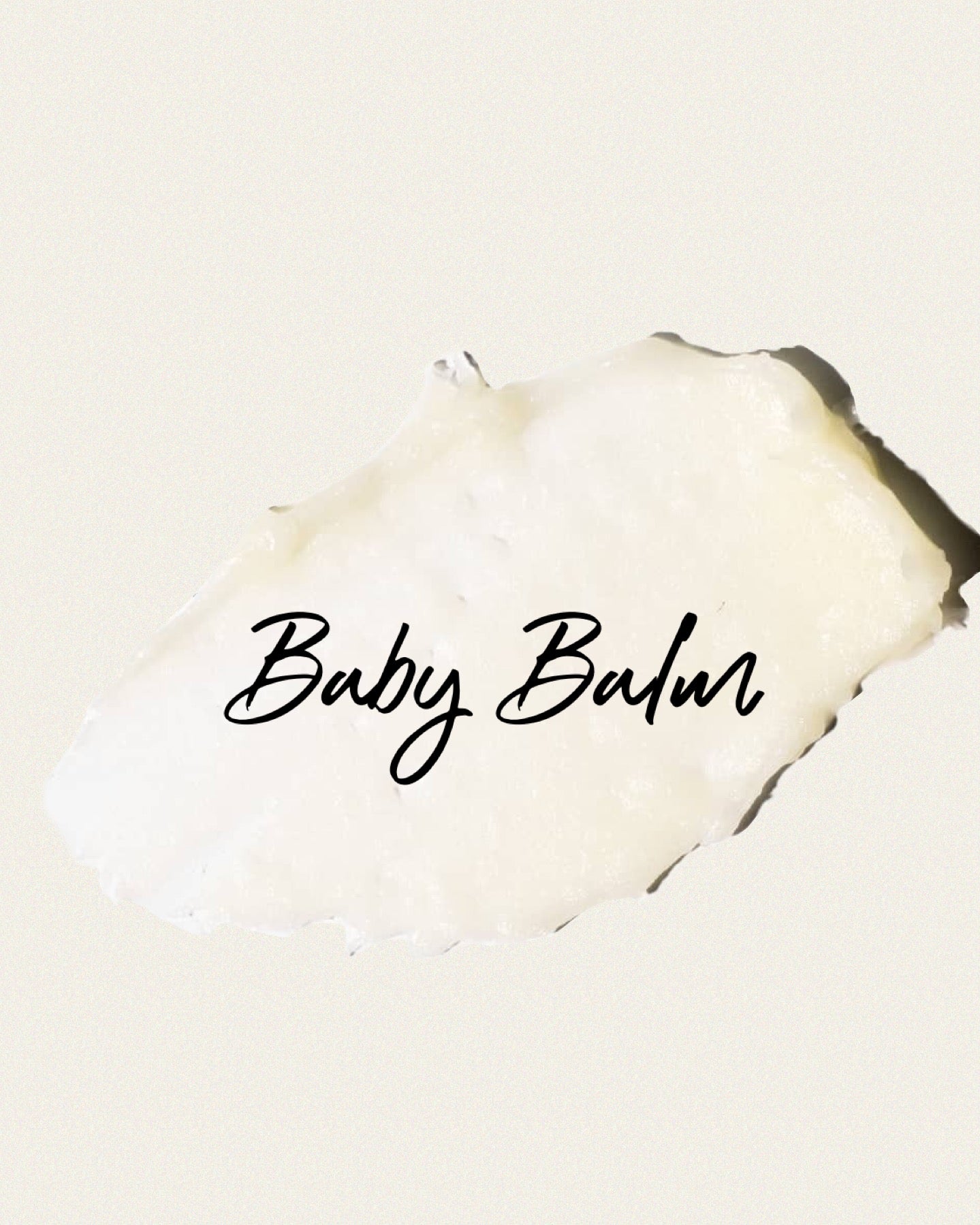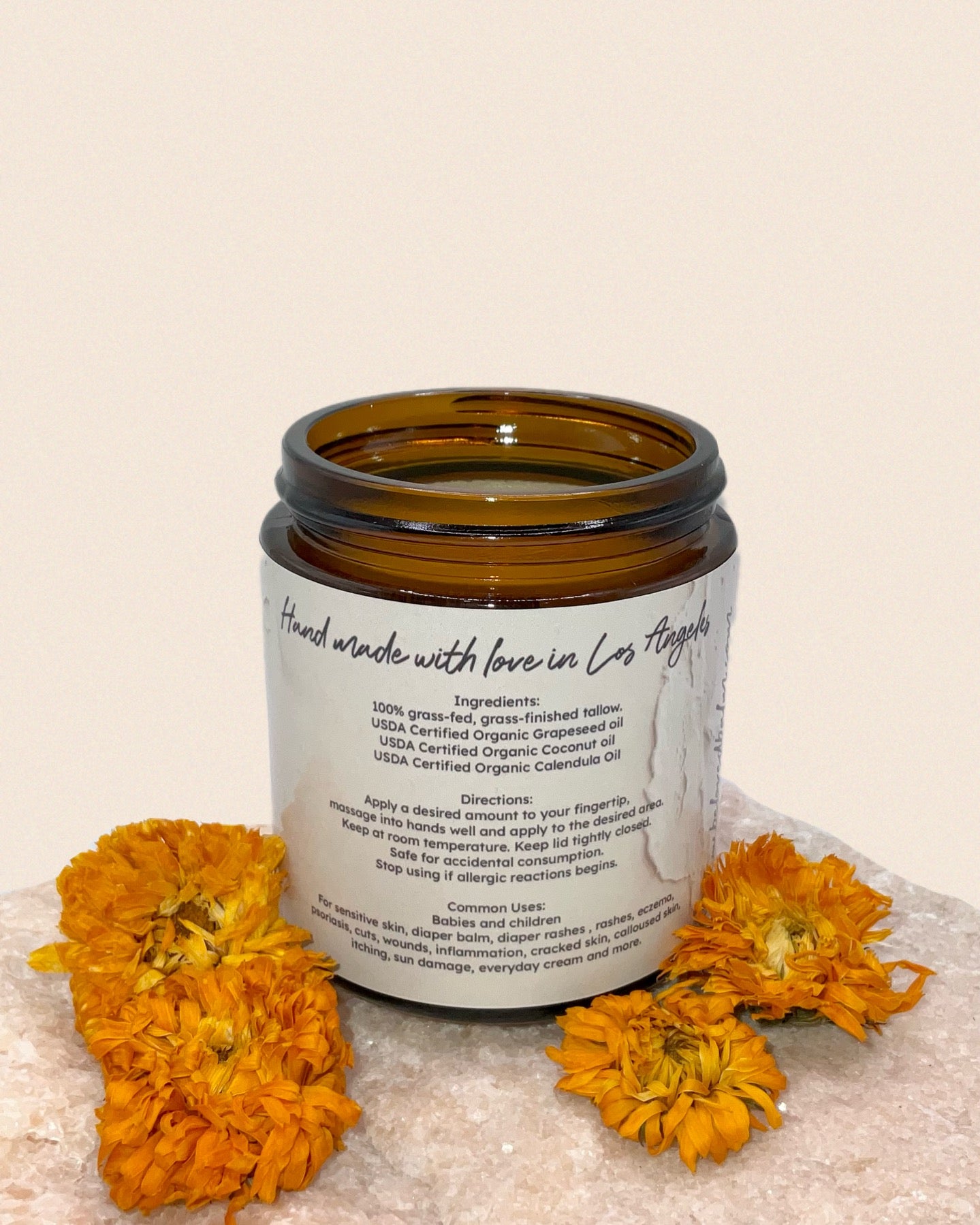 Smells and feels amazing
I have both the baby balm and the lavender balm and both are great. I started using the lavender balm on my hands to moisturize because I've been so dry. It smells so good and feel soft, not oily. For my daughter I use the baby balm in the evenings in her diaper change just to prevent any rashes bc she's sensitive. Works great, definitely recommend. Great alternative organic and healthy choice!
We love our Baby Balm
We have been using our Baby Balm for about one month now and we love it! I use it on my toddlers' eczema on his cheeks, on his rough little knees and I've even used it on his bruises. It's his "magic healing balm." The smell is divine and I'm grateful that if he decides to taste it (which toddlers like to do with a lot of things) he won't get sick. We give it two thumbs up!!
Finally a Balm that is safe yet effective for my little ones.
This Balm truly does wonders! As a pediatrician and a Mother I have seen and used many variations of diaper balms for our little ones. None of them has worked as effectively as this one. The Balm ingredients are minimal yet powerful and effective in healing as well as keeping the area of application moisturized and protected providing a protective barrier against the skin and the diaper for many hours. Preventing diaper rashes. From my experience this balm keeps the areas moisturized for extended amounts of time like a full night sleep, the balm kept our baby's crevices moisturized and protected effectively while healing and keeping a diaper rash away without any harmful ingredients. I truly love this product and what it stands for. By Far the Best Balm i've Used!! We are definitely going to be returning customer and recommending to my patients. Thank you!
I love that this balm does not stick to my baby's diaper and that it doesn't dissolve immediately. I also love how it's non toxic and all natural ingredients. I don't have to be afraid if my baby accidentally puts the cream in their mouth since it's safe for accidental consumption.
You won't be disappointed!!
We love Beloved Balm! It's so soft and gentle on my baby's skin. My son had a runny nose and his skin got red and irritated, Beloved Balm worked so quickly to clear his skin. I felt good knowing it was all natural. You won't be disappointed so buy it!